We are simply thrilled to have your camper join us this season! It is our hope to help your camper create happy (and maybe epic) memories in this archery only summer camp.
Our camp instructors have been teaching and developing youth athletes for a combined 28 years. In that time, we've successfully developed and run camps around the city and are now bringing those skills to rest at our very own facility.
XQuest Archery offers an exceptional experience. All instruction is delivered by NCCP Certified Coaches and all equipment is provided in our camp sessions.
Registration is as easy as
1 – 2 – 3
Review upcoming camps for available dates.
Read camp descriptions and details.
Select your desired week by clicking the register button below.
Each participant will be asked to sign a waiver prior to participating in our lessons.
December

2023

Sun
Mon
Tue
Wed
Thu
Fri
Sat
Upcoming 2024 Summer Camps
PROGRAM DETAILS
Has your child always been interested in Archery? Give them the best start possible by enrolling them this 5-day, full week program offering campers an immersive archery experience.
Each week we will dive into new archery related themes to keep them engaged and help them relate this millennia old sport to current culture. We have designed the camp to allow for each participant to gain the basics of the Olympic Recurve shot and scoring system while remaining engrossed in archery related games and activities. All culminating on the Friday with a light and friendly competition.
Archery, like most sports, is an activity best performed in moderation and our camp program certainly takes this into consideration! During the day we will be participating on and off in active lessons (up to 3 hours daily) interspersed with fun games and activities that will not break with the overall experience.
WHO CAN ATTEND?
Available to youth between 08 and 16 years of age.
You must be 08 years old prior to the start date of your camp.
TRANSFER & CANCELLATION DETAILS (REQUIRED READING)
Cancellation • Transfers • Refund Policy
CANCELLATION POLICY
GENERAL
Xquest Archery is committed to providing quality service to our clients.  Unfortunately, when a customer cancels without giving enough notice, it prevents another customer from being served.  Late cancellations do not give other customers the ability to register for our services.  For these reasons, Xquest Archery has implemented a cancellation policy that will be strictly observed.
FULL PAYMENT
Your registration is complete when we receive your full payment and have signed the participant agreement.  Payment can be online or in person.  We do not reserve class spaces without payment.
CANCELLATION REQUEST
Cancellation requests may be submitted by phone, email, or in person.  Cancellation requests will only be accepted up to 7 days prior to the start date of your booking. 
REFUND REQUESTS
Refund requests made more than 7 days prior to the start date of your registered camp are subject to a $20 plus HST administration fee.
Refund requests will not be accepted within the 7 days prior to the start date of your booking.
TRANSFER REQUESTS
Transfer requests must be made more 48 hours prior to the start date of your registered camp.
Transfer requests made more than 48 hours prior to the start date may be accepted based on availability.
Transfer requests made after the 48 hour window will not be accommodated.
Other Programs at XQuest Archery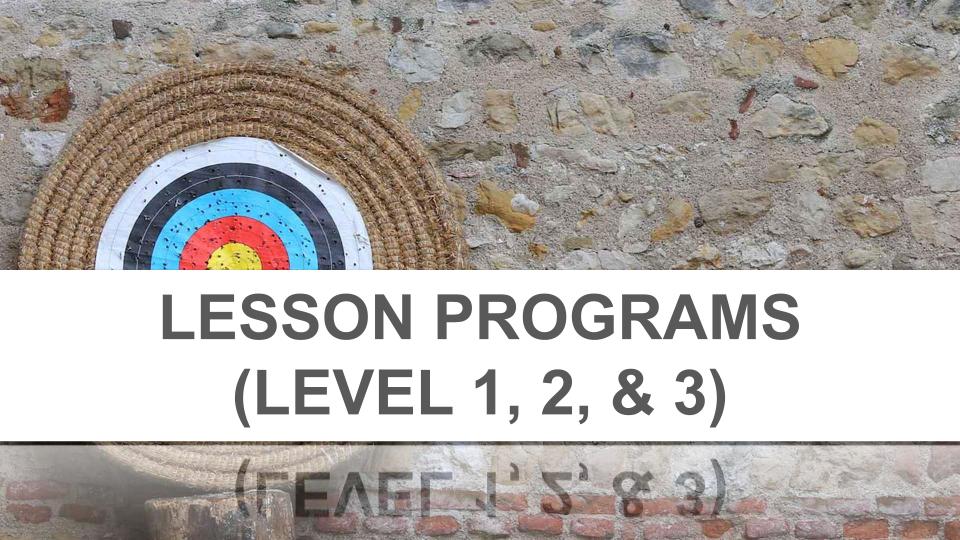 BEGINNER ATHLETE DEVELOPMENT PROGRAMS
Who can attend?
These 5-week programs are for individuals who have never shot a bow, taken formal archery lessons or need a refresher on shot execution. Lessons are available to youth 10 and older and adults.
Parents of youth under the age of 16 are required to remain at the facility while their youth is engaged in programming.
All equipment will be provided for course instruction. Those who wish to use their own equipment should check with the course instructor.
Join us and start your archery journey today!
​
Program Details
In level 1, archers will learn range safety and etiquette are emphasized and the FUNdementals of target archery are covered. The new archer can focus on establishing a foundation on which to begin to build their knowledge and skill. Topics covered are:
Range safety and etiquette;
Eye dominance;
Stance (correct shooting posture);
Correct bow hand position; and
Facial reference.
After successfully completing level 1, participants of the level 2 program will be introduced to new skills as well as reinforcing the technical knowledge taught in the Learn to Shoot Level 1 course. Emphasis will be on building a consistent basic shot routine. Archers will also be introduced to a basic warm-up routine.
And don't forget that in level 3 we bring all of your lessons and skills together, building upon a strong foundation and propelling you forwards toward your archery goals.
All equipment will be provided for course instruction. Those who wish to use their own equipment should check with the course instructor.
Year Round Programming
Register
age 10+ and adults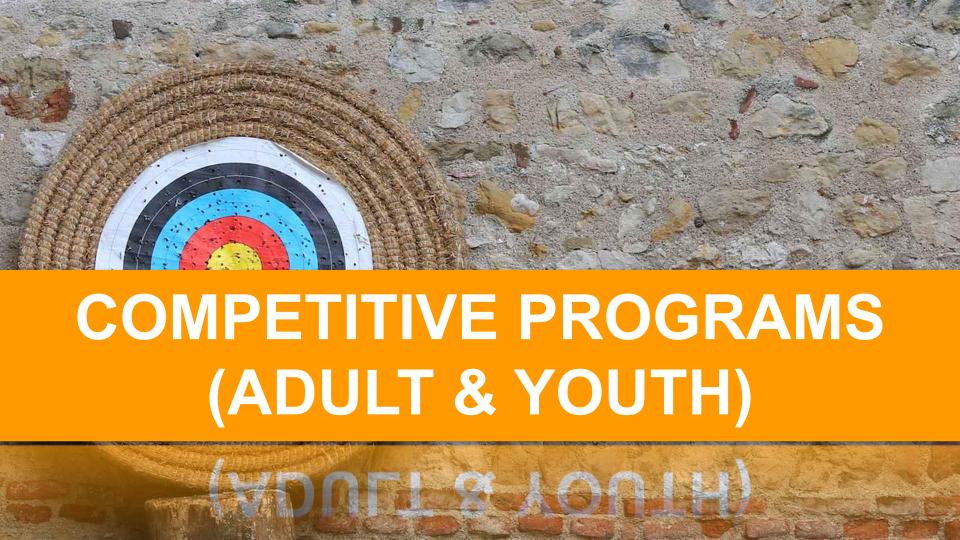 Youth and Adult Competitive Program
Who can attend?
Registration in this program requires a minimum 3-month commitment and is available to youth ages 10 to 17 years of age and adults 18 years and older.  Access to the program is by invitation.  Althetes enrolled in this program are interested in training towards meeting the demands of competition.
Equipment can be provided but archers would benefit from having their own equipment.
Facility membership fees are included in our fee structure but a current membership to Archery Ontario is required.
​
Program Details
Youth and Adult Competitive Programming
Our Youth and Adult Competitive Program is focused on assisting archers in building the discipline and dedication necessary to optimize individual skills in combination with training to realize personal goals and potential.
This program provides every participant with a chance to succeed through the development of long-term skills such as confidence, perseverance, sportsmanship, goal setting, respect, a strong work ethic and a sense of accomplishment in their abilities.
Archery teaches participants fundamental movement skills, fundamental sport skills and the ABC's – agility, balance, coordination and speed – of physical literacy.
Archery's Long-Term Archer Development (LTAD) model consists of seven stages.
Active Start (0 years in sport) – Learn fundamental movement and link them in play settings
FUNdementals (0 – 4 years in sport) – Builds overall motor skills with an emphasis on initiation, sport basics and safety.
Learn to Shoot (1 – 4 years in sport) – Develops overall sport skills with an emphasis on development of form.
Train to Shoot (2 – 8 years in sport) – Establishes an aerobic base, develops speed and strength, and consolidates sport-specific skills
Train to Compete (4 – 10 years in sport) – Optimizes physical preparation and sport-specific skills, while learning competition and performance skills
Shoot to Excel (7+ years in sports) – Maximizes overall skills and preparation while perfecting focus and flow, and shooting for rankings
Shoot for Life (Any Age) – Encourages lifelong participation, whether competitive or recreational, in physical activity and/or sport
XQuest Archery's Competitive Program will focus on the Learn to Shoot and Train to Shoot stages of Long-Term Archer Development.
Athletes involved in the Competitive Program should be shooting, at a minimum, one other session per week. Youth are eligible for competitive funding through our Competition Recurve Development Fund. (Criteria must be met to be eligible)
Entry into our Competitive Program is limited to 8 participants per category (Youth and Adult) and those interested should speak to our head coach.
Archers spend three hours per week with Coach Doreen Howes and Head Coach, Janice Clark
The Program runs on Saturdays from 1:30 to 4:30 pm.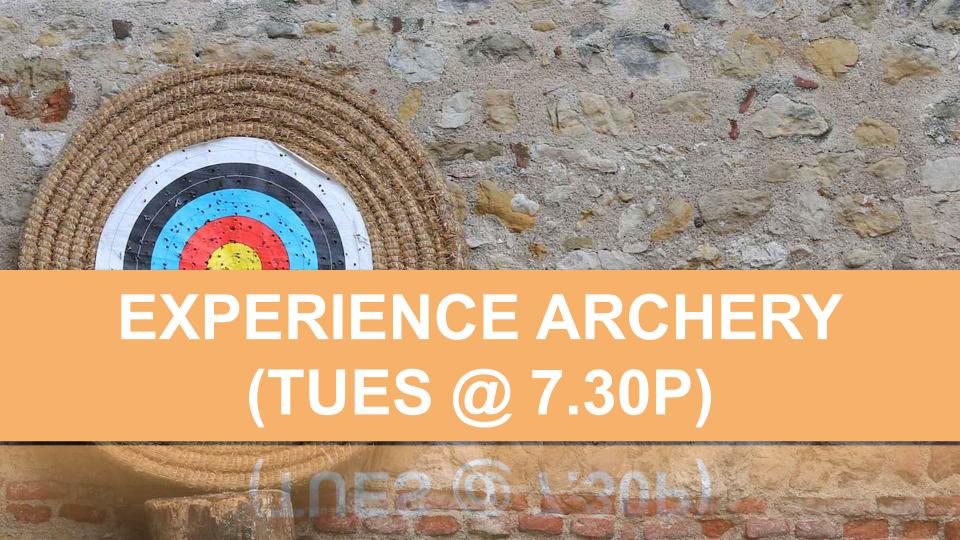 Experience Archery Offerings
Who can attend?
Available to youth 10 years and older and adults.
Youth between the ages of 10 and 12 are required register with a parent or guardian for the event.
All equipment will be provided for course instruction. Those who wish to use their own equipment should check with the course instructor.
Join us and start your archery journey today!
​
Program Details
Do you want to experience archery before you commit to lessons? Have a fun and interesting date night? Do something with the whole family?
Then our Experience Archery sessions are the choice for you.
We supply the equipment and the range safety officer and you have the fun.
Each session is one hour in length and are monitored by a certified range safety officer.
An overview of range safety and etiquette will be introduced before shooting.
Register
age 10+ and adults
Come and experience the passion for archery at XQuest Archery